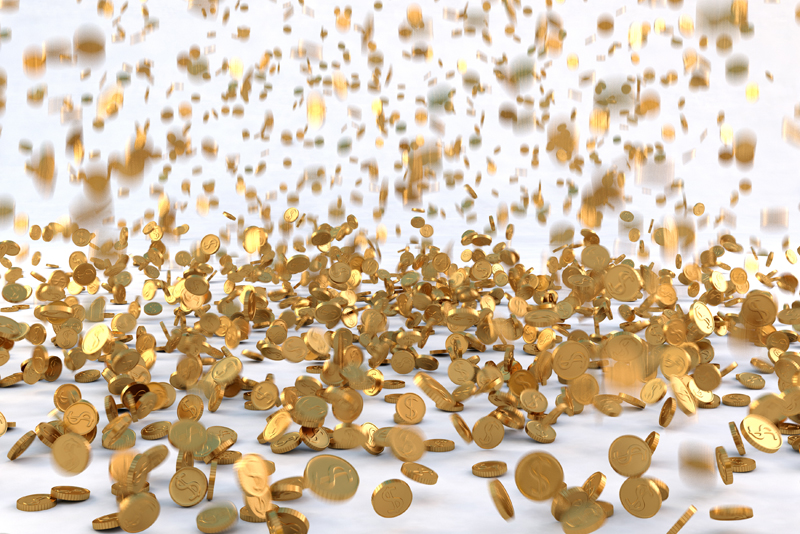 First of all, I'd like to state that I believe that investing in coins has always been and will always be a prudent thing to do with a portion of your hard-earned dollars. This is especially true today in light of the economic distress throughout the U.S. and the World.

However, I am not going to disillusion or mislead you by implying that putting your money into coins is the only sensible thing to do with it. First I will discuss the disadvantages and then the advantages, of converting your hard-earned money into coins.

DISADVANTAGES
(1) Storage. Coins can be stolen, destroyed by fire, or damaged by fire. All worthwhile coins must be stored in a safe place. Safe deposit boxes offer the utmost in protection, but they are costly, and are becoming costlier. Beyond that, the weight of certain coins in bulk quantities can load down the box. If properly packaged and preserved, it will relieve you to know that you can put as many as several hundreds, or even thousands of coins in a safe deposit box. Because coins can be stored this way, they do not present the same problems that would arise if you were collecting large antiques such as paintings or old automobiles.

(2) Preserving condition of coins. Coupled with the storage problem, is the fact that coins will deteriorate by tarnishing if not preserved properly. Proper preservation requires that you handle coins carefully by their edges and acquire preservation materials -- holders, envelopes or tubes.

(3) No periodic yield. Coins do not return interest or dividends. Any money you make with them is realized when you sell them, and that could be a very long time after your investment has been made.

(4) Overpricing. Dealers in coins sometimes make it easy for an investor to get caught up in a frenzy by describing (or mis-describing) coins in particularly enticing ways. If the investor is not careful who he buys from or what he buys, he runs the risk of greatly overpaying for less than top-notch material. This is perhaps the major problem in coin investing today. Note: This is why I have recommended that all my business associates, friend and family purchase their bullion and numismatic coins from a wholesale club for precious metals. Go to my Preservation of Wealth page for more detailed information.

ADVANTAGES
(1) There is a ready market for quality coins. The market for choice coins is good. They are in demand, people will pay cash for high quality items. Of course, some coins do present a liquidity problem, but by and large if you foresee this before you invest and act accordingly, you should not have much difficulty in disposing of your holdings.

(2) Coins can appreciate steadily over the years. While coins do not offer a fixed periodic yield or return, when they do enhance in value, the sky is the limit. A prime example is the 1904-S Uncirculated Morgan Dollar. It increased in price from $12.50 in 1959 to $2,500.00 in 1988. You simply can't even approach making that kind of money from savings accounts and savings bonds. Coins have the possibility of escalating in value to whatever a serious buyer is ready, willing, and able to pay for them.

(3) Safety. If you buy the right kinds of coins - namely quality material, your investment is almost always safe. Rarely will the bottom fall out of such an investment.

(4) Coins do not present management problems. Unlike an investment in improved real estate which requires constant attention, coupled with payment of property taxes, insurance, and maintenance, you merely buy coins and hold them until you think it is time to sell.
(5) Coins containing precious metals offer protection against the following problems facing us today:

Inflation
Deflation
Currency Devaluation
Stock Market fluctuations

More and more economic experts are recommending that prudent people store up to a third of their wealth in precious metal products such as gold, silver and platinum coins. Precious metals have always proven to be a haven in a sea of uncertainty.


Related Articles
Editor's Picks Articles
Top Ten Articles
Previous Features
Site Map





Content copyright © 2022 by Gary Eggleston. All rights reserved.
This content was written by Gary Eggleston. If you wish to use this content in any manner, you need written permission. Contact Gary Eggleston for details.